Uhura, al secolo Nichelle Nichols, è morta oggi a novant'anni.
Lo annuncia il sito StarTrek.com, con molta tristezza.
"Is deeply saddened to report the passing of Nichelle Nichols, the Star Trek franchise's beloved Lt. Uhura"
Per decenni è stata fedele al suo ruolo nella Science Fiction per antonomasia, con il suo carattere radioso e spumeggiante.
Protagonista di un bacio interrazziale all'epoca discusso con il Capitano Kirk, si è sempre distinta per charme ed eleganza, risultando una delle protagoniste più amate dai fans.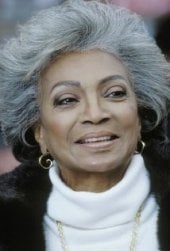 Nichols era nata il 28 dicembre 1932 a Robbins in Illinois, a sud di Chicago, da Samuel il padre sindaco della cittadina e sua madre Lishia.
Aveva 15 anni quando debuttò con Duke Ellington come cantante e ballerina, a Chicago, New York e Los Angeles.
Recitò in piccole parti in Carmen Jones Porgy and Bess, Mr. Buddwing, Doctor, You've Got to Be Kidding!, E Made in Paris.
Nel 1964, Nichols ebbe il ruolo di protagonista inThe Lieutenant, del produttore Gene Roddenberry.
Roddenberry ne rimase colpito e la ingaggiò per la nuova serie, Star Trek, come il Tenente Uhura, ufficiale alle comunicazioni della  U.S.S. Enterprise.
Alla fine della prima stagione decise di lasciare lo show, salvo poi ripensarci e rimanere legata al personaggio per più di cinquant'anni.
Leggi anche: https://www.adhocnews.it/no-speranza-prevedere-un-reato-con-una-circolare-ministeriale-non-si-puo/
www.facebook.com/adhocnewsitalia
SEGUICI SU GOOGLE NEWS: NEWS.GOOGLE.IT